About Family Burns Club
Burns and scalds are amongst the most harrowing and painful injuries that can happen to any child, and they often leave lifelong scars that are not just physical, but psychological also. These injuries are a constant reminder to both the child and their family of the harrowing trauma that they have endured, sometimes over many years.
What Do We Do?
We support and organise events and activities that bring together young people and their families, from birth up to the age of 25
Reinforce that despite lifelong scars, their dreams, their hopes and their goals are just as achievable as any other child's
Provide a place where the children have fun, and rebuild their confidence and self esteem
Promote challenges and educational experiences
Tracy Foster BEM, Founder
I am a play specialist working at Pinderfields Hospital, Wakefield and have worked on the region's Children's Burn's Unit for many years. Working on the burns unit I have seen the trauma
tic affect that burns have on the lives of children, young adults and their families as they are referred to the department from across the Yorkshire and Humber region. This has led me to expand the support for burn survivors run by myself and dedicate staff .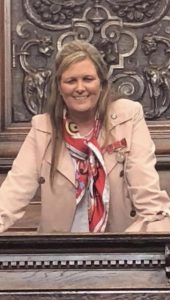 Head of Admin & Volunteer
My son was scalded in 2007 at the age of 2 when he pulled a hot cup of tea over onto himself. He was rushed to Pinderfields Burns Unit and underwent a skin graft the same day. It's the scariest thing myself and my husband have ever been through. The support that we received from Tracy and the Burns Club has been amazing, Caspar has been given such great opportunities at camps over the years and I have been lucky enough to volunteer and attend the camps too. Having seen the kind of effect the club has on both the patient and their families I am honoured to now be a part of the new charity and am looking forward to supporting more families in the future.
My family burns club weekend
My family burns is centered around child and young adults following a trauma of a burn injury unfortunately some patients are left with life long scars that can sometimes have an affect on self esteem and confidence as one gets older have a safe space a loving and understanding group of individuals that not only have experienced something similar but at all different stages of treatment come together and spend a weekend away Is truly uplifting and inspiring camp has an age range which is fabulous because the children can communicate on different levels also they can see and realise that burn injuries can happen to anyone no matter their age race sex etc and bonding over such a traumatic time makes the world of difference they realise they are not alone and that its ok to look different feel different and express your feelings too its so beautiful to see children come together and make each feel better about something that has impacted their lives so much you have new children that have new been to camp before being taken under the wing of a child that has been to camp numerous times and reassures them that only is this weekend going to be amazing and unbelievable fun but also a place to let your hair down and talk about any worries or stresses you may have the children of my family burns are so very strong resilient and powerful! They makes us well and truly proud camp is also a place where parents and carers can open up about their feelings about the injury and seek advice or just a listening ear which is definitely needed on so many levels us parents tend to blame and beat ourselves up about accidents even if it was completely out of our control I'm learning not to be so hard on myself too but burns camp has certainly taken me out of a dark space I was in for years ! Hearing other parents stories and how they have overcome certain stresses and the steps they have taken to reduce mental stain is very uplifting is gives you the strength keep tour confidence as a parent and also to return the favour ! Being a listening ear or a shoulder to cry even an advisor is a beautiful thing to know that just maybe you have helped a parent/s come to terms with the injury and change their mind set and remind then that accidents do happen we are all human and most of all you are not alone. I can't thank Tracy and my burns family enough for what they have done for me and family I'm forever a member we all are we love are family we love our weekend we love my family burns always
The Queen's Award for Voluntary Service 2022
Queens award for voluntary services 2022 " We being cognisant of the said group's outstanding voluntary work in the community and being desirous of showing Our Royal Favour do hereby confer upon it"
"I have given many year of voluntary time and I am so proud to be part of Family Burns Club "
Jasmine Foster-Hale